Automated Multi-State Policy Administration Software
iComp is a fully integrated, multi-state workers compensation and General Liability insurance  processing system. iComp consists of several integrated modules in Policy Administration, Claims and Financial Management to cover the complete workers compensation business cycle. iComp supports full-service Workers' Compensation carriers, Third Party Administrators, Self-Insured funds, MGA, TPA, or other workers compensation entities and includes the following modules:
o   Application & Quoting
o   Renewal
o   Policy Management
o   Claims Management
o   Billing & Receivable
o   Mail Merge
o   Cancellation
o   Reinstatement
o   Commission Processing
o   Data Import and Export
o   Audits
o   Report Writer
o   Document Management
o   Journals & Notes
The application module stores and processes quotes and binds a Workers' Compensation or a General Liability policy. A submission may be quoted with several user defined products and billing plans. The printed quotes can be saved as a MS Word or PDF document which can be printed, faxed, or E-mailed.
iComp provides an advanced multi-state, multi-location rating engine for general liability or workers' compensation coverages including Increased Employer Liability, USL&H, Maritime, Waiver Subrogation, and state-specific surcharges.
iComp incorporates a powerful policy and endorsement issuance system allowing for automatic generation of Policy Forms upon policy issuance. In addition to the information page, endorsements, and schedules, other forms such as a cover page may be added using Microsoft Word to produce a complete policy package with a click of the button.
iComp provides comprehensive agent accounting and flexible commission processing including fixed commission percentages for new and renewal in addition to tiered percentages based on premium volume.
CBSI iComp is robust and flexible enough to accommodate all of your workers' compensation insurance needs. iComp was built under the direction of a major workers' compensation insurance fund.
---
Allows for multiple Quotes per Application and quick access to existing applications
Real-Time Policy processing with automatic rating, underwriting, billing, policy issuance, policy audits and policy renewals
Automatic Generation of Policy Forms upon policy issuance and policy change.
Automatically selects candidates for cancellation and reinstatement based on non-pay of invoices or missing self-audit reports
Unlimited numbers of commission splits among various agents are allowed
Facilitates entry and processing of periodic and interim audits
Automatic Generation of Loss Control tasks based on user defined rules and triggers
The iComp's Document Management Module provides an efficient process for creating, accessing, and storing documents.
---
CBSI iComp is available immediately; please Contact us for licensing and pricing details. Current CBSI customers may upgrade to CBSI iComp at a significant discount. CBSI iComp offers even more power, from document management tools and automatic generation of policy endorsements to seamless integration with CBSI Accounting 98 and much more.
---
For a free demo, contact us today! We look forward to hearing from you!
---
Additional Features
Allows for the printing, faxing, and emailing of insurance quotes and provides a straight-forward binding process
Provides unlimited number of user-defined and user-maintained fields and Unlimited number of Notes and Journals for each Insured, Policy and Agent
Provides access to the financial records of a policy directly from a policy screen and maintains a complete cancellation and reinstatement log for the policy
Allows for multi-unit, multi-state policies with a flexible Anniversary Rating Dates and unlimited experience modification splits
Users can define custom policy forms using Microsoft Word and associate these forms with policy events. In addition, Policy forms are automatically archived and can be viewed or printed at any time
iComp allows for unlimited products and billing plans setup, rate tables, custom adjustments and fees
Provides automatic final audit processing for canceled and expired policies and facilitates entry and processing of periodic and interim audits
Tracks both physical and voluntary audits and generates the final debit or credit invoice when the final audit is entered
Allows changing and quoting a renewal before actual renewal of a single policy or a group of policies.
iComp includes built-in scheduling and management tools for loss control related activities. The system allows planning and tracking of Loss Control Tasks including pre-binding inspections, regular surveys, meetings, and other user-defined tasks.
Allows for user defined survey forms, recommendation and follow-up letters for different type of loss control tasks. In addition, you can store cost associated with a Loss Control task, if desired
Integration with CBSI Accounting 98 and Microsoft Office (Word, Excel and Outlook)
Allows user to work with multiple data forms simultaneously (view or edit two or more policies, etc)
Reports can be saved in many formats (Adobe PDF, Microsoft word, Microsoft Excel, Windows RTF, etc…)
In addition to the comprehensive management built-in reports, iComp includes an optional report writer interface that allows users to create custom reports in CBSI iQuery
---
Turnkey Solution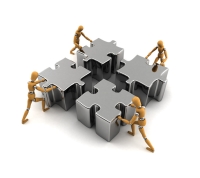 Our staff has extensive experience in the insurance industry, Including: policy management, agency reporting, and more. These skills give us the ability to study your needs and provide you with a complete iComp based 'TURNKEY SOLUTION'. Whether your needs are to easily manage your policies, administer billing and receivables or keep in touch with agency force, CBSI has the right solution for you.
---